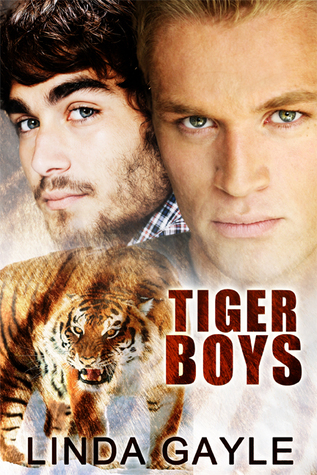 Tiger Boys
by Linda Gayle
Published July 20th 2014 by Linda Gayle
My Rating: 5 of 5 Stars
Grad student Jules has always felt different. He's got buddies, sure, but relationships make him turn tail and run. Dreams of tigers and memories of a mysterious great-grandmother make him wonder if there's something his parents aren't telling him. When an unexpected inheritance offers clues to Jules's destiny, he's intrigued, to say the least. It doesn't hurt that the news is delivered by a sexy Russian who seems to know Jules better than he knows himself.




A prince of a powerful tiger clan, Sergei Sidorenko wants to live as an ordinary man. But his family nags him to take his place as king. They offer him a deal: teach the lost prince Julian how to shape-shift and control his untapped sorcerous talent. Then Jules will be king, and war between the once-rival clans will be avoided. Most importantly, Sergei will be released from clan obligations forever. It sounds like an easy out. But Sergei doesn't count on Jules being so temptingly innocent, so eager to learn. Lessons in sorcery turn to lessons in love. And Sergei falls hard for Jules.

Dark clouds gather over the tiger clans. In a bid to seize power, Jules's ambitious older brother, Anton, works on the key to immortality. And he needs Jules's flesh and blood to finish the spell. Tangled in Anton's machinations, with a traitor in their midst, Jules and Sergei must fight for their lives—and for the love that destiny would deny them.
This is the first Linda Gayle I have read and to be honest, I was really sceptical about reading another paranormal/shapeshifter story, especially from someone who was new to me. Ended up? I really fell in love with this world she has created and I just Want. Some. More!!!!!
As the blurb reads, we have a young man by the name of Jules. A graduate student who works part time to survive the costs of bankruptcy-inducing school fees, he is the most surprised when he receives word from an antiques dealer that his grandmother had left him something. Thinking this may be his way out of financial and everlasting doom, he meets Sergei Sidorenko. Surprisingly, the man is not old enough to be an antique himself and was quite attractive. Best news of all, this man seems to be attracted to him. Yay!
Sergei is a prince of his clan. Coming from a long line of kings and princes, a horrible incident in the past left him with a sour taste with anything pertaining to his family. Or his legacy. Rejecting his world, he turns to the human world and succeeds in dealing with antiques. When his sister approaches him to beg for his help to help a young tiger raised as a human, his first reaction was to say no. When his sister plays the big sister card, he finally capitulates and agrees to meet the young 'human' and maybe train him. He meets Jules and all thoughts of decency goes out the window.
Sergei convinces Jules to be trained and even if it was a hard start, eventually, Jules gets the hang of this new and supernatural world he finds himself in. His sense of reality starts to shift and it was a difficult process. He not only had to deal with magic, he had to deal with shape-shifting too. To top it off, whom he knew as his family was not. Another complication: it was really difficult to think and maintain that his and Sergei's relationship remain platonic. Sergei had been told: Don't. Touch.
That was a tall order!
This was such a different and curious read. Yes, this is a plot that involves magic, shape-shifting and violence related to both, as well as the expected romance between two hunky, beautiful men, but that is where all similarities end.
This world is different.
Linda Gayle has created a world that is not wholly revealed here and screams of SERIES!!!!! where I would expect the rest of the mystery will be revealed. She, however, wrote it in such a way that just kept me reading till the wee hours of the morning. It has action, romance, violence, betrayal, romance and more twists and turns. And yes, romance.
Eventually this book ended, and there is a whole lot of stuff that are left unanswered. Instead of frustrating me, it made me even more curious and I just want that next installment now. When? I have no idea. I just hope soon.