Born and raised in the north-west of England, K.C.Wells always loved writing. Words were

important. Full stop. However, when childhood gave way to adulthood, the writing ceased, as life got in the way.

K.C. discovered erotic fiction in 2009, where the purchase of a ménage storyline led to the startling discovery that reading about men in love was damn hot. In 2012, arriving at a really low point in life led to the desperate need to do something creative. An even bigger discovery waited in the wings – writing about men in love was even hotter... K.C. now writes full-time and is loving every minute of her new career.

The laptop still has no idea of what hit it... it only knows that it wants a rest, please. And it now has to get used to the idea that where K.C goes, it goes.

K.C. loves to hear from readers

:

Email | Facebook |Twitter: @IslandTalesPres | Website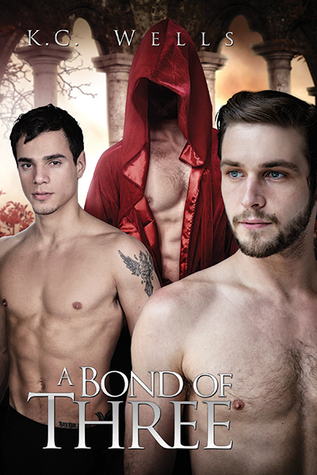 Cover Artist: Photography by R.J. Sebastian, designed by Alexander Tsopanakis, with exclusive cockboys.com models: Levi Karter, Duncan Black & Tayte Hanson
In the kingdom of Teruna, the red-cloaked Seruani teach the Terunans the art of love. Taken from their homes at seventeen to be trained, they are shunned as outcasts by society and considered the lowest of the low. So when Prince Tanish falls in love with the Seruan Feyar, the man who took his virginity and the only one to share his bed, he is not about to declare that love. No one can ever know, because the consequences would be too painful to consider for both of them.
When the king of Vancor visits Teruna, he promises that his son, Prince Sorran, will marry Prince Tanish to solidify the alliance between the two kingdoms, with the proviso that the virginal Sorran is instructed in the art of pleasing his husband-to-be. When Tanish's father chooses Feyar to be this instructor, the lovers decide Prince Sorran must be taught that this is to be a marriage in name only….
A resentful prince, unwilling to share his lover.
A resentful Seruan, unwilling to share his prince.
And the shy prince whose very nature sparks changes in the lives of all those around them.
Teruna is about to change forever.
Review by multitaskingmomma
My Rating: (5 of 5 Stars) 5
The Multiplier Rating Takes Effect
I had been so looking forward to reading this book for like, ages and when the cover got teased? I was just impatient. Now that I have read this? I can only say: this is one of the best K.C. Wells I have ever read and she has written so many good ones it is quite hard to point on one or two. Let's just say, this has become one of my favorites from this woman and for a good reason.
In this alternate or fantasy world, the Seruani are a people feared and looked down upon. No one could really remember why this was so but in other lands, this was not really the case. Point of fact: they are a mysterious sect who practice the art of sexual pleasure and service those who need the release for too many reasons to count. One such Seruan is Feyar.
It was Feyar who was chosen by the Teruna Crown Prince, Tanish, to tutor him in the art of love making and it was he who stayed with Tanish for the years that followed. He and Tanish loved each other and were inseparable but because of cultural dictates, Tanish could neither claim him nor acknowledge his presence. The two men loved for years until Tanish is informed that his duty to marry a princess to beget heirs for the crown to continue has come.
The Prince of Vancor, Sorran, is an enigma to his people but he is also beloved. To be a prince meant he had duties to perform so even if he is indeed the heir of his father the King, he is also duty bound to be used as a pawn for the sake of the kingdom. As both Vancor and Teruna faced a common enemy they could not fight against individually, they needed a solid alliance and this is where the plot twists.
Feyar is ordered by his King to tutor the young Sorran in the arts. Feyar is resentful and ready to hate the young prince now betrothed to Tanish, but when he meets Sorran, he could not help but love the young man. The conflict is how to separate himself from the Seruan that he is and his personal love for Tanish, his prince. As the three come to terms of their complicated relationship, mysteries unfold and an unknown force brings the three men together.
I think I just read a high fantasy book written by Ms Wells and it is such a huge surprise for me as I never expected this book to turn into one. I expected M/M romance, I got it. I expected a menage and I got it too. I expected erotic, and yeah, this is totally Hot! But high fantasy? Never. But I got it anyhow and yes, this is the reason why I just fell in love with this whole world.
Now I have a demand to make: I need more of this world, so when?