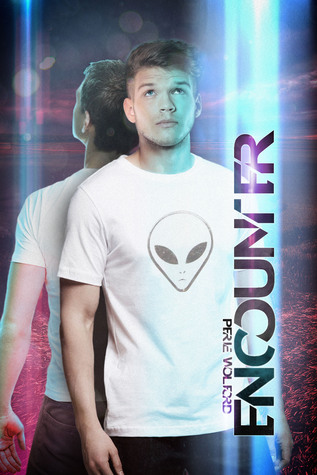 Encounter (Encounters #1)
Published: February 23, 2015
It's time to face the unknown


In an attempt to prove it to the world that crop circles are man-made and aliens don't really exist, Ricky and his team of young enthusiasts (including one particular enthusiast, Josh, who is hopelessly in love with Ricky) start falsifying the phenomenon by creating their own crop circles. Their endeavors prove successful, pretty much so, but only until the day when Ricky sees his unique circle design replicated throughout the country by the force unknown.
Review by: multitaskingmomma
My Rating: 4.5 of 5 Stars
Encounter brings author Perie Wolford back to the genre where he is most comfortable: science fiction. After reading his book, Presence, a story of a woman who got caught in a world where aliens were slowly taking over her planet, I knew I had met someone whose vivid imagination translated well to the written word. Then the author left that genre and focused on YA novels that I fell in love with, Turning16. This is an ongoing story of a young gay man and about how his life changed after he turned sixteen. Getting to know the author more, I found myself wondering when he would go back to the sci-fi genre. Well, after coming up with more M/M YA novels, finally, the wait is over. Perie has finally come up with a seriously awesome read that is both scary, fascinating and at the same time, bewildering.
This is a suspense, thriller science fiction camera footage novel that relates how Ricky and his team of myth busters do some scary stuff in an effort to smash all alien-origin concept on crop circles. His cameraman is his long time friend, Josh, and just happens to be secretly in love with Ricky. Ricky's team, through a blog, attempts to correct the misconceptions about the origin of crop circles by making fake ones. Although their blog is followed by many interested enthusiasts, the number of people reached was really just the bare minimum.
It's time to bring up their game and come up with a vlog. How will they reach the maximum attention? By creating a fantabulous, but fake, crop circle. Joining them is a young woman whom Ricky meets online. She is interested in their activity and joins their team to finally prove that what Ricky's team is claiming is actually true and aliens are non-existent.
It all goes well at first but then there was no coverage. In a last ditch attempt to prove he is right, Ricky comes up with a complicated crop circle design and convinces his team that, although dangerous, they could recreate its pattern on a field. They did. It was seen all around the world. But then, they realize: there are other crop circles popping up around the world. Crop circles that mysteriously, eerily, replicated his original design.
As a camera footage novel, this is one fantastic read. The scenes flit from one scene to the next with introductory text on the origin of the particular segment. It was like reading The Blair Witch Project without the blood and gore. Mix in a dash of the mysterious X Files and just to add spice, a little bit of Contact. I am a serious geek on the UFO phenomenon and this is one fascinating story that reads so fast, the goosebumps started to rise and but never calmed down until the very end. This was one awesome, awesome read that just ticked all the right boxes for me. When the end came, it was like a bucket of water thrown to my face. That was just... wow. Just... Perie, you are so bad.
In any case, as an M/M novel, there is no romance too obviously going on here but there is a whole lot of misunderstanding and lack of communication between the two young men. When Josh and Ryan finally come together... Well... Perie says he never writes erotic, but man! what a surprise. This is HOT!
Scary. Fabulous. Mysterious. Sci-Fi. Hot! What a combination.