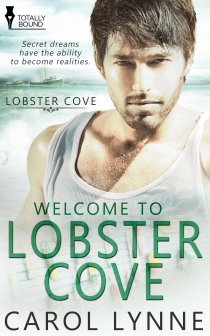 This is book one in the Lobster Cove series
When following your dream lands you in Lobster Cove, Maine, anything is possible.After gaining custody of his younger brother, Boone Jensen moves to a unique LGBT community on the coast of Maine. There, he hopes to find work as a stonemason, heal his broken heart and give his brother a safe place to call home.Life was good in New York City for chef Dante Madia, until his business partner betrayed him. Determined to trust only himself, Dante risks everything on a new restaurant venture in a small fishing village built on acceptance.Neither man is looking for love, but in a town like Lobster Cove, secret dreams have the ability to become realities.

Giles West's Review of:
My Rating: 5 of 5 Stars
Welcome to Lobster Cove is an engrossing short story by author Carol Lynne. So engrossing in fact that I lament the fact the author chose not to make it a full-length novel. There was definitely enough in the story to warrant a longer treatment. This is the first work I've read by this particular author and I must admit I wonder at her reasons for making it a short story. While it is her decision to make, as a reader I feel slightly short-changed by it after having felt invested in both the story and characters. But, such is life.
I need to explain that because this book is still in the editing phase, I can only really comment on story and character. The writing style of the author has allowed me to immerse myself into her story and I don't remember being jarred out of it at any point, which is always a good thing. It does, as aforementioned, need editing, but any good work needs that and hopefully mistakes and omissions will be fixed and cleaned up.
When I first started the short story I must admit I was concerned it would be a somewhat stereotypical one with an older brother taking care of a younger one, albeit one with Down's Syndrome. But at it's heart Welcome to Lobster Cove is about a group of people who are all broken in some way. Our lead, Boone is dealing with a love affair gone bad, while Chef Dante is learning how to trust again after a life filled with betrayals. Their stories and characters do seem vivid, real, and alive and the reader cares about them and the whole town of Lobster Cove. Laddy (Boone's brother who has Down's Syndrome) and Eva add a lot to the story as well.
The author does a wonderful job of setting up her world and actually manages to convey a great deal in a limited number of pages, while definitely leaving the reader wanting more. This is supposed to be the first book in a series and the various citizens of Lobster Cove are introduced in a way that makes one look forward to learning more about them and their town. There are also sex scenes a'plenty. There are well written sex scenes in stories and badly written ones which some books would do well to leave out. The sex scenes in this short story are not only well written and sexy, but also serve to bring out more information about the main characters.
Overall the story makes for a nice, easy, and entertaining read. I still can't help but think it would be great as a full-length novel. A slowing down of the pace of it would work so well with the subject matter and adding more details would just enhance the reading experience of such an engaging story. However, there is an art to writing a short story and the author manages to convey a lot with few words. It is a complete narrative, albeit it one in need of editing—which will be happening. The characters are fully formed and it's a plus that as reader I want to know more about them and the town.
So, for reasons already stated, I will rate this book solely on character and story development. I am greatly impressed by how much the author has managed to say and how well she says it.
Even though I am still left wishing it had been a full-length novel, my final rating for Welcome to Lobster Cove is four and a half stars out of five.
**** and a half.
Excerpt
By reading any further, you are stating that you are 18 years of age, or over. If you are under the age of 18, it is necessary to exit this site.
Copyright © Carol Lynne 2015. All Rights Reserved, Total-E-Ntwined Limited, T/A Totally Bound Publishing.
Boone Jensen pointed to the view out of the passenger window. "What's that?"
Landon, or Laddy, as Boone preferred to call him, stared at the scenery. "Water."
"The Atlantic Ocean," Boone clarified before mussing Laddy's light brown hair. He'd known since Laddy's birth that their mom would need help raising his baby brother, but no one could have predicted that their mother, Gloria, would die of a heart attack at the age of fifty-three. At first, he'd worried that he wouldn't know how to handle a sibling with Down's Syndrome, but other than a few obsessive compulsive issues and a lower than average IQ, Laddy had quickly become the jewel of the family.
"Cool," Laddy said, using his new favorite word.
"Yeah, cool," Boone agreed. The drive from Gary, Indiana, their hometown, had been long but it was almost over. Within half an hour he and Laddy would be able to start a new life.
For two years, Boone had begged his partner Michael to move to Cattle Valley, but Michael had refused to entertain the idea. After Boone's mother passed away and he'd gained full custody of Laddy, Michael couldn't get away from Boone fast enough. With nothing else tying him to Indiana, Boone had taken the plunge and applied for one of the few remaining houses in Cattle Valley. He'd waited almost two months, but he'd eventually received a call from Mayor Nate Gills. Nate had explained that a local billionaire, Asa Montgomery, had purchased a small town in Maine in hopes of making it the refuge that Cattle Valley had become. Better, the new LGBT tolerant town, Lobster Cove, was in need of skilled carpenters and craftsmen.
Before the conversation with Nate ended, Boone had agreed to make the move to Lobster Cove, a small fishing village on the Atlantic coast. He still wasn't sure what he'd find when he arrived, but he'd seen the video Nate had emailed, and from the look of the place, there'd be plenty of work.
Boone returned his attention to the winding road in front of him. It was July, which meant he'd need to check out the school before long. According to Nate, the council in Cattle Valley was working hard to weed through the applications in search of educators and other positions that still needed to be filled in Lobster Cove. Boone had discussed Laddy's needs with Nate, and Nate had assured him they would keep Laddy in mind when interviewing teachers.
Shortly after Boone had turned up the radio and lost himself in the soulful sound of vintage Marvin Gaye, they came upon a large wooden sign that read 'Welcome to Lobster Cove'.
"We're here."
Laddy sat up straighter as they rounded a sharp bend in the road.
When the small town came into view, Boone barely managed to keep a gasp from escaping. He pulled over to the side of the road and parked. Lobster Cove was laid out before them in all its glory. He'd noticed the brightly painted houses on the video, but nothing could have prepared him for the sight of them in person. His elation quickly turned to pain when he realized he may never be able to afford one of them. Medical bills and funeral costs had wiped out not only his savings, but also the equity he'd received from the sale of his boyhood home. For the near future, he and Laddy would live in a small, one-bedroom apartment. It wasn't an ideal situation, but he hoped he could find enough work to pay the rent and have some left over to put into savings.
"Pretty," Laddy said.
"Yeah." Boone rolled down his window before sticking his head out to inhale deeply. The smell of the ocean combined with freshly mown grass brought on a surge of emotion. Christ. He'd never had such a strong reaction to a place before. Yes, the town, with all its colorful houses and picturesque waterfront shops, was like something from a calendar, but in his heart, he knew it was so much more. He glanced at Laddy, wishing he had the means to give his brother the fucking moon. "I found us an apartment to stay in for now, but maybe someday we'll be able to live in one of those houses."
"Okay." Laddy shrugged. "Do you think they have candy here?"
Boone grinned at Laddy's one-track mind. "I'm sure they do, but let's check in at the rental office before we explore the town. Deal?"
Laddy shrugged again, which meant he didn't agree but either knew he wouldn't win the fight or couldn't come up with the words he wanted to say.
Boone put the truck into gear. "It's three now. We can get the keys to our new place and have the truck unloaded in time to walk downtown for supper. If we finish early, maybe we'll take a walk along the dock. How does that sound?"
"Can I have grilled cheese?" Laddy asked.
"Sorry, buddy, you had grilled cheese for lunch. You need some meat and vegetables." Boone hated the role of food police, but if Laddy had his way, he'd eat nothing but grilled cheese and candy.
Boone drove slowly through town, keeping an eye out for the rental agency. "Bluebird Café," he said as they passed a cute diner.
Laddy wrinkled his nose. "I'm not eating a bluebird."
"Neither am I," Boone agreed. "Hopefully that's just the name of the place," he teased, poking Laddy's side.
Giggling, Laddy knocked Boone's hand away just as Boone spotted the place he was searching for. He parked and turned off the engine. "Are you staying here or do you want to go in with me?"
Laddy peered up and down the street. "You'll let me stay here?"
Boone smiled. "Yeah. One of the reasons I wanted to move here is because I knew it'd be safe for you." He narrowed his eyes. "But that doesn't mean you can wander off."
Laddy gifted Boone with one of his heart-melting grins. "I'll stay here."
Boone rolled his window down and gestured to Laddy to do the same. Knowing he could give Laddy a little more freedom than he was used to felt damn good. Once out of the pickup, he surveyed the sidewalk. A group of four teenagers walked toward them, three guys and a girl. It took everything he had not to insist that Laddy follow him into the agency, but Lobster Cove was being built on tolerance and he needed to believe that it extended to all members of the community.
~~~~~~~~~~~~~~~~~~~~~~~~~~~~~~~~~~~~~~~~
About the Author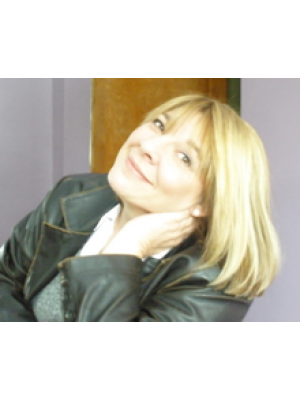 An avid reader for years, one day Carol Lynne decided to write her own brand of erotic romance. Carol juggles between being a full-time mother and a full-time writer. These days, you can usually find Carol either cleaning jelly out of the carpet or nestled in her favourite chair writing steamy love scenes.