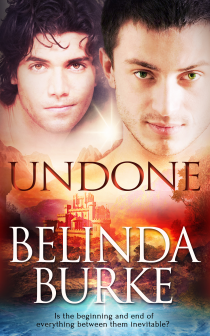 Published May 8th 2015 by Totally Bound Publishing
The first step on the road to addiction is desire…Tighe is Summer's prince, the second son of the Summer Queen. The blindness of his mortal father cursed him with eyes that see too much, and now he wanders the woods of immortal Summer alone. He is an outsider in his own country or at best a curiosity—never someone anyone truly wants.Faelan is gancanagh, one of dark Summer's most treacherous beings. Beguiling as he is beautiful, he, like all of his kind, was made to incite lust and longing, even as he seeks true love. For anything mortal, anything unprepared, even to be in his presence is dangerous.When the two meet by chance, Faelan can't help but be curious about this half-mortal prince—and the prince is more interested in a companion than questioning what kind.Tighe has never seen anything but the lie behind love. Faelan is love's lie and knows it. Is the beginning and end of everything between them inevitable? Which is stronger, need—or nature?Publisher's Note: This book is associated with the Eight Kingdoms series by Belinda Burke.
Reviewed by: Giles West
My Rating: 3 of 5 Stars
I'm going to start this review for Undone by Belinda Burke, with an analysis of the cover art. The cover seems to be a conjoining of two things which don't seem to work well together. The castle is old-fashioned, romantic, and fanciful, however the pictures of the two men don't seem to fit into this environment. They are jarringly modern and have no mystical or fantasy qualities about them. In general, the cover doesn't do an efficient job of relaying what is contained within. So, the cover must be deemed a fail.
The story itself is fascinating. When I started the read I felt the piece had an almost poetic and lyrical quality to, almost as if I were reading an epic poem. There is a real beauty to the author's words. Unfortunately, her editors have failed her on numerous occasions. In several places the wrong words are used. For example there is a "for" when there should clearly be an "of". Another example occurs in the sentence "peering at up" which should be "peering up at". This doesn't occur to an obscene degree, but it really shouldn't happen at all under a publisher who should have a stable of able-bodied editors on hand. Then there is the problem of repetitive word usage. It's obvious that the author is doing this with a certain intent in mind, and it does work when used minimally, but there's a problem. The problem is that the technique is overused in places to the extent of being jarring and taking this reader out of the story. It's not that the writer doesn't have a way with words or vocabulary. It may have more to do with the fact that someone, an editor, should've reined some of this in a bit.
There are a lot of good things about this short story, beginning with the almost lyrical flow of the words. The characters are also intriguing and you want to know more about them. Both male leads: Faelen and Tighe draw you into their world and make you care about what happens to them. And there are fascinating supporting characters such as Queen Elenn, whom I can picture as a Valkyrie from a Wagner opera and the Red king Macsen Cadoc. The scenes of Tighe creating his art are also wonderfully written. Small touches such as the bird who shows up in the story are just a pure delight.
All in all Undone is an entertaining story with sensual love scenes, lush settings and characters one can root for. My major criticism is actually toward the publishing house and its editor who did the author a serious disservice in regard to the editing. Because of the editing problems and repetitiousness of words I will take a star off the rating. In this situation I do believe the problem lies more with the editing than with the author who I think is very skilled at her craft.
By reading any further, you are stating that you are 18 years of age, or over. If you are under the age of 18, it is necessary to exit this site.
Copyright © Belinda Burke 2015. All Rights Reserved, Total-E-Ntwined Limited, T/A Totally Bound Publishing.
It's over between us, whatever it was that we had."
The Summer air was bright, but the beauty of the day did nothing to soften the words that Tighe had come to say to his lover. Blinking, shaken, Nuala stared back at him with something shimmering in her eyes, maybe almost-tears, not quite. "Tighe, you don't mean it. You can't!"
"I do."
"But I love you!"
"You don't." He watched her for a long moment, daring her to speak. She said nothing, and he shrugged, almost smiling. They always say nothing. He reached out to the curve of her cheek. "You might want to or wish you did. You don't. Why would you say you do when you don't?" He pulled back his hand and shrugged again. "Goodbye, Nuala."
"Tighe!"
He walked away and didn't turn back to face her. She would be watching for him to do just that, for any sign that he would give in and return to her. But I won't, Nuala. Over between us, he'd said, and he'd meant it. She had come to him years ago seeking the secrets and the strangeness of the son of her mistress, her queen. She had been so sure of her own beauty, her own charm, that she had been laughing and unafraid, at least at first. There had been no worry in her when she'd met his eyes.
She had been unafraid until she had learned the truth. Until she knew what it was he was really seeing, the secret heart of her, essence and echo. Fear had grown from that seed, had hidden a no behind every yes. I saw everything you are, Nuala. Ever since you have been pulling away, and now—
The lie had been in her voice. He hadn't even needed to look at her to see the truth, but it was right there, right in front of him. The only lie he couldn't forgive. So now it's over, and in a day or a month or a year of Summer time, she'll be healed of me, while I go on forgetting how to forget.
He could keep no one. He would be alone without her, as he had been alone before. I knew it would happen. Already he was missing her. If only there was someone else…but who would bother? He had grown famous in Summer, and for a while it had seemed as if he'd never have a shortage of partners. There were so many eager to try their luck. But luck wasn't with him—or them.
It occurred to him that it might be time to leave Summer again, wander out of the hidden kingdoms of the west and travel into the gray, to seek some other secret world—the silk lands, the dream lands, the Yaksha kingdom or the ships of the middle sea. But that was running away, and he knew it.
Instead, he walked around the front of the palace, entered the great gates and strode through the gleam of the entrance hall looking for his mother. She was in her throne room, alone in her high seat and smiling. Even when she looked up and saw him she was smiling, not a flicker of distress. It was disturbing.
Not since the first time he had met her, a boy of twelve, had she failed to react to the peering curse of his glance. Now all he saw in her was softness and a loving glow. "I thought you should know. Nuala won't be happy for a while."
"You left her? Tighe." She sighed.
About the Author
Belinda currently lives on the New England coast with her fiancée, their room mate and her cat. When she's not writing, she's working toward degrees in Philosophy and English, embroidering or reading.
Belinda writes in several genres, but a little lust and love always work their way into her stories.