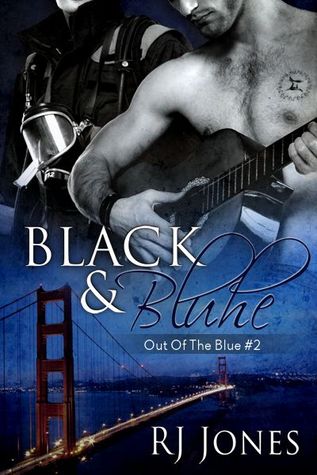 Published July 31st 2015 by Vivid Blue Press
Amazon
Grayson Black has never forgiven himself for not saving his identical twin brother, Jet, from a savage beating at their father's hands ten years ago. Jet's near-death never would have happened if Gray hadn't been so focused on his boyfriend at the time. He has sworn to take care of his brother ever since. Gray can't afford a distraction from his self-imposed mission, the type of distraction presented by the gorgeous blond showing up at their gigs.
Kris Larson is a firefighter with the San Francisco Fire Department. Since splitting from his girlfriend, his favorite way to spend nights off is watching the Black Brothers play in the bars of the Bay Area, especially the guitarist. But it's not until the brothers are left homeless after a fire at their apartment building that Kris has the opportunity to know the real person behind the brooding façade.
Gray fights his attraction to Kris, but with a meddlesome twin who just wants him to be happy, it's a losing battle. Before Gray and Kris can have a lasting relationship, though, Gray must learn to forgive himself, let go of the past, and lay more than one demon to rest.
Review by: multitaskingmomma
My Rating: 4 of 5 Stars
Twins Jet and Gray Black are part time musicians with a good following. Their daytime jobs is in education and they are both happy as much as they could be. Things could be better, but they are not. The point is, they survived and they are accomplished in what they do. Better, they are respected.
One night they lost their home and it seemed they had nowhere to go but an expensive hotel or an inexpensive, dirty motel. As they thought over how their life could go down the drain thanks to one fire, they are approached by none other than a fireman who they recognize as someone who is not only their loyal Black Brothers fan, but is the same man who Gray has long been attracted to. It helps they know him from a distance as he is someone who follows their act around. Is he trustworthy? Well, Jet seems to think so and Gray has to grit his teeth and follow where his brother leads.
Kris has had a long crush on one of the Black Brothers, Gray to be specific. Sure, the twins are identical, but there is just something about Gray that grabs Kris' heartstrings. If only Gray were as nice, as charming, as amusing, and as open as Jet, then Kris would not have a problem. Opening his home to the twins was a move made from the heart as the two really did need a temporary home until they got back on their feet. On one hand, it would lessen the loneliness Kris felt living alone in his old house still filled with the furnishings from an era long past gone. On the other hand, maybe he should not have offered his home because Gray was nasty. On one foot, Jet was a blast and Kris never ate better. On the other foot, Gray went out of his way to make him miserable.
Gray has his reasons for his anger issue but really, should he have made Kris be at the receiving end? Maybe he should give Kris a try? Well he did, but then Gray backtracks and there the story really begins and goes on. Seriously, there were times I wanted to bitch slap Gray and wished for Kris to fall for Jet instead, but No! RJ Jones has to guarantee it is Gray who is the love interest. Why? Well, she had her reasons and by the end page, she was right, I guess. It took time for me to love Gray, an instant to love Kris and about a sentence to love Jet.
I love RJ Jones but much as I love her, this was a bit of a longish read and the angst sort of dragged on a bit. However, drag or not, the end was what this book needed and more, it was well worth the wait through the drama.
If you don't mind my rambling, look to the rating and yeah, this is a recommended read. Well worth the anxiety I had to go through to get to the happy ending these two men deserved.
Note: Copy provided by Pride Promotions for an honest review.