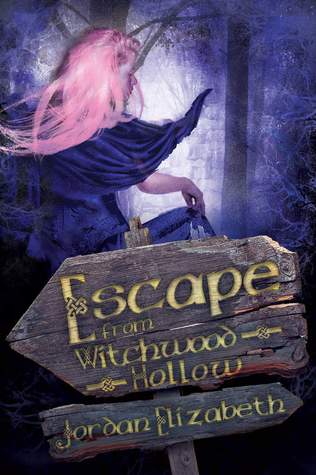 We would like to thank author Jordan Elizabeth Mierek for donating an ebook copy of Escape from Witchwood Hollow, to 1 lucky commentator who gets chosen. Make sure to leave a comment below to get a free ebook copy of Escape from Witchwood Hollow.
Everyone in Arnn - a small farming town with more legends than residents - knows the story of Witchwood Hollow: if you venture into the whispering forest, the witch will trap your soul among the shadowed trees.
After losing her parents in a horrific terrorist attack on the Twin Towers, fifteen-year-old Honoria and her older brother escape New York City to Arnn. In the lure of that perpetual darkness, Honoria finds hope, when she should be afraid.
Perhaps the witch can reunite her with her lost parents. Awakening the witch, however, brings more than salvation from mourning, for Honoria discovers a past of missing children and broken promises.
To save the citizens of Arnn from becoming the witch's next victims, she must find the truth behind the woman's madness.
How deep into Witchwood Hollow does Honoria dare venture?
Review by: multitaskingmomma
My Rating: 5 of 5 Stars

I was asked to review this and surprisingly, when I read the blurb, it called. So I answered. Then I read and the goosebumps after... this is a chilling tale.

There are three stories going on here: Honoria who is from 2001, Lady Elizabeth Clifford from the 17th century and Albertine from the 19th century. Their stories are interconnected in the most fascinating way that should confuse but did not as all three are told, at times, simultaneously. Strange? Yes, this is a strange tale, but what story of witches and bewitched forests of Arnn is not strange?

There is a tale that longs to be solved and yet no one in Arnn attempts even a little bit. The citizens simply shrug their shoulders and accept that people disappear time and again in the forest, never to be found again. When Honoria moves with her brother and aunt and uncle after a tragedy, never did she suspect she would find her fate trapped in the search for the truth behind the missing children and young people through the centuries.

Although this may sound like a convoluted tale of legend and horror that may sound blairewitchy, it's not. Honoria takes it upon herself to find out the truth behind the legend and maybe save her sanity along the way. What she encounters is totally different. In the course of Honoria's tale, we get the tales for Lady Clifford and how she came to be known as the witch of the woods and Albertine who is truly the key to the whole mystery. What sends chills down the spine is the ending. I can only say the mystery is solved but at what price?

It's great to stumble upon a tale so brilliantly penned it surpassed my expectations of what a YA is all about. This I can recommend to all, be they young or old, especially this coming Halloween.

Note: Copy provided by author in exchange for an honest review.



twitter username: JayliaDarkness
To get a chance to win an ebook copy of Escape from Witchwood Hollow, leave a comment below and don't forget to leave your contact email address.
We will randomly pick 1 lucky commentator and Jordan Elizabeth Mierek will email them their ebook version of choice.
To claim prize, we will be sending an email to the address provided by the lucky commentators. Don't forget to tell us what format you prefer.