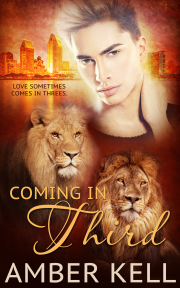 General Release Date: 22nd December 2015
Pride Publishing
Love sometimes comes in threes.
With his mother plotting to have him wed, Niall decides to sneak out of the fae palace and fulfill one of his greatest fantasies. At the Unconventional bar, he finds a pair of lion shifters looking to spice up their love life. Unable to resist the strong attraction between them, Niall lets the persuasive pair take him home.
Jovan and Luka have been searching for their third for years. When Niall stumbles into the bar, their shifter instincts tell them the innocent fae could be their long sought mate. After a sensual night together, they're certain the beautiful man was fated to be theirs.
His guards fetch him from the shifters' bed and Niall is taken away from the pair. Upset about Niall's return to the palace and a possible arranged marriage, the lion shifters battle to decide their future—should they go and fetch their mate or let it only be the one-night stand Niall promised them?
Publisher's Note: This book was previously published as part of the Unconventional in San Diego anthology by Pride Publishing.
Review by: multitaskingmomma
My Rating: 3 of 4 Stars
(Based on Short&Light Read Category)
Coming in Third is a sweet short read about two shape shifters and the discovery of their long-awaited third. What they did not contend with was a fae third whose powers were tamped by a conniving mother whose fear and selfish impulses may just result to their mate's death.
This was an enjoyable read but must admit I found it a tad rushed, not to mention the editorial issues I am becoming more adept at spotting. Other than the mistakes, I breezed through this read and truly want some more of this world.
This is short and sweet and if you like Amber Kell like I do, then this is one to enjoy.