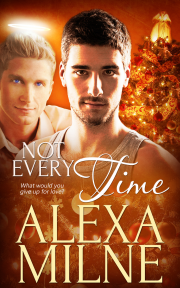 General Release Date: 15th December 2015
What would you give up for love?
Raziel Slade and Jack Hastings have been best friends since Raz saved Jack's life twelve years ago. Jack has spent years searching for the perfect woman with the help of his wingman, Raz, the man he thinks of as his guardian angel. At a company Christmas party, the world Jack thought he knew turns on its axis, and feelings he didn't know he had punch him right between the eyes. Can Jack learn to see his friend in an entirely different way?
Openly gay, Raz loves his best friend and has given up more than Jack will ever know to be with him, but he's never dared to tell Jack how he truly feels, or to reveal his true identity. For twelve years, he has waited in the wings.
Now, with Jack's sudden epiphany, can these two best friends work out if they have a future together?
My Rating: 4 of 4 Stars
(Based On Short&LIght Read Category)
Jack is straight and had been searching for the right woman to share his life. He never found her. Raziel, his best friend, has been watching on the sidelines and never said a word. When Jack finally has an epiphany, it happens on Christmas and it is the best gift he'd ever received. If only Raziel feels the same way.
This is a best friends to lovers story and it is romantic as it is surreal and fairy tale like. What else is the best kind of read these holidays. This was intended to make the readers feel the thump of romance and grin like a loon. This is a dream, a fantasy, and Jack and Raziel only have to wake up and be the partners and lovers they were always meant to be.
If you like these types of stories, the feel good, angst free, romantic love stories, then this is for you.
Note: Copy provided by publisher for an honest review.