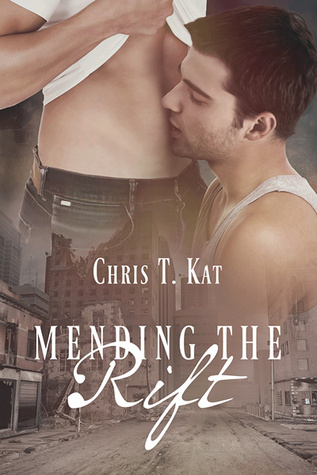 Date Published: March 14, 2016
In a future where man's ability to reproduce is severely compromised, humanity has adapted to survive. Breeders—male and female—have become precious commodities, and they are strictly guarded and subject to limitations.
Luca Walker is a breeder. Though he knows what's expected of him as the son of the Northern Confederacy's vice president, he's held out against the pressures of an arranged marriage because he longs to marry for love, not duty. But he's been promised to Colonel Liam Smith and there's little he can do about it, no matter that Luca is secretly in love with his bodyguard, Marcus Gray.
When Luca finds himself pregnant with Marcus's baby, Smith is furious and vows to take what is his—by force, if necessary. Now Luca must fight for his life and the life of his unborn child… as well as the love of Marcus and the happily ever after he's always dreamed of.












Review by: multitaskingmomma

My Rating: 4 of 5 Stars



Mending the Rift is one of, or the last book we'll read from author Christ T. Kat. It is also mpreg, a sub-genre that tickles the fancy of many readers like myself, but does not interest others. If you are not inclined to read mpreg situations, don't read on. Otherwise, here's my take on this Kat world.




This is set in dytopian society where both men and women can bear children. Not through evolution or twist of fate, but from human experimentation. The reasons behind the actions of the few scientists was the destruction of billions of people when WWIII finally happened. With so many dead, so many women left barren, the scientists thought: why not? Of course, you can imagine the fallout of their actions.




It is now several hundred years after the first man gained the ability to have children and birth them himself. The process of impregnation is quite complicated, it is not a natural occurrence after all, and their status in this world is not truly and wholly accepted either. The same biases and bigotry raise their ugly heads but what else could people do?




The men and women who could bear children are called "breeders" and it is both a celebration and a mockery of their gift. With the stain of the word comes a whole new situation wherein breeders are both protected and abused.




One breeder, Luca, has been protected his whole life. His father, the VP of the Northern Confederacy, ensures breeders are. Unfortunately, there is nothing much could be done when his son ends up getting betrothed to someone he could not tolerate. Luca, you see, has been in love with his bodyguard Marcus for quite some time. Running away from the betrothal seemed a mighty fine idea when he first thought of it. Having to live it was a different thing. He gets caught by Marcus who ensures Luca stay at home. Then Luca discovers he is pregnant and he doesn't know how or by whom.




The complicated plot twists and we see a struggle between family and tradition. The bigotry abounds and a sinister plot is discovered. Right, front and center are Luca and Marcus whose only thought is to be together and make sure their little family survives the conflict that develops between north and south.




On the sidelines we see a cast of characters who I want to read more about and hope the author has written before she finally says good-bye to us all.




For a debut mpreg story, this is not the best, neither is it the worst. What I liked reading this was the fast pace and well written dialogue. There is much to tell and they were told. The thing that worries me are the questions that may be left unanswered. What happens after that ending? Will th new development bring a happiness to Marcus' younger brother? How about Luca's fathers? How will they be after the decision they make? Many more questions.




Overall, if you like mpreg, go ahead and read this. If not, again, don't read beyond the first paragraph of this review.




Note: eARC provided for by Pride Promotions for an honest review.