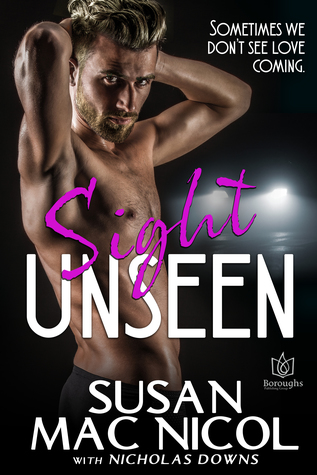 Amazon
Tragedy brings together a reserved but brilliant sculptor and an outgoing gallery owner, friends whose love was sidetracked—but was always meant to be deeper.
BLINDSIDED
SoCal natives, Nate and Cody have been friends since childhood. Both knew they were different—and the same. At seventeen, a stolen weekend in the Florida Keys drove their connection deeper and hotter than either could imagine. They were meant to be together. Then, for reasons only Nate knows, suddenly they weren't.
They're still friends. Best friends. But they've moved on and found other partners. The yearning remains, however, despite the long-ago secret that drove them apart, and when tragedy strikes, both men find themselves in the dark. They must grope their way back to who and what they are...which they will find in each other's arms. Sometimes, losing one's sight can open one's eyes—and heart.
Review by: multitaskingmomma
My Rating: 5 of 5 Stars
There are only so very few authors I want to grow up to become, one of them is Susan Mac Nicol. I've read all of her works, loved them all, hated some characters, fell in love with quite a few. In all of her works, her gritty style doesn't just give the readers a glimpse of what her characters think or feel, there are times you get lost in them. Most times, you get an up close and intimate seat that can make you squirm, grimace, empathize and eat popcorn with. Even take tea.
Now, Mac Nicol's style cannot be lumped into the one word romance. Think erotic and truly intimate. It makes her readers smile and dream, this one most of all. However, there are times when the eroticism is not just about sex. When it comes to drama and suspense, it gets really erotic.
And then came Sight Unseen.
This is not erotic, far from it. Yes, there are some scenes here that would make many readers pant, but I must say, Unseen is one of her tamest books. In fact, I'd say this reads like a true romance novel.
Do I love this? Heck, yes. The difference between this story and the rest is that there is more focus on the characters. We get to know how they lived before a tragedy, how they coped after. I got to really hate the ex-boyfriend, but have known real couples who went through less and the other simply couldn't cope. In this case, the blindness drives the other one away because of some narcissistic reasons which I can understand.
What I really loved here is the post-blindness events. The learning, the coping, the denials, the perseverance and many more. Some would disagree and cite lack of drama. My rebuttal is, it really depends on the individual on how they deal with life's left hooks. If one were to generalize, sure, depression, telenovela wailing and whatever else scriptwriters can think of to emphasize a loss. But not all drama has to be like that. Sometimes, it is the quiet and determined living after the tragedy which has a greater impact.
Sight Unseen is bigger than it reads for I've read this a while ago, and read it again. Honestly? I've read this more times than I can count, and I've never done that before with a Mac Nicol book. This one speaks volumes in more ways than one. The reader gets the feels, and the images. It's quite hard to let go, especially as I thought: finally, a character who didn't have to break down to get a good cry.
Oh, forgot. Sorry, this story is bigger than romance, but yes, it is truly romantic and I can't argue with dreamy romances.